Pervez Musharraf plans return to Pakistan politics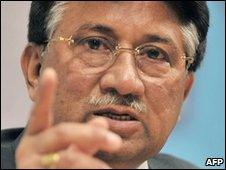 Pakistan's former President Pervez Musharraf says he plans to return to politics in Pakistan.
"The question of whether I am running for president or prime minister will be seen later," he told CNN News.
Due to security issues he could not give a timeframe for his return, he said, but added he would go back before mid-term elections in the country.
Pakistani officials say Mr Musharraf has applied to register a new party, AFP reports.
The former president criticised a UN report which said that his government had not done enough to prevent the assassination of ex-Pakistani Prime Minister Benazir Bhutto in 2007.
"It was me who warned her about the threat to her.
"It was I who stopped her from going to that venue once before... but she decided to go again," he told CNN.
"All the security, wherever possible... by the police was provided to her," he added.
If he returns, Mr Musharraf could face a criminal trial in Pakistan for detaining judges before he resigned after an election defeat in 2008.
Since then he has mainly been living in London.
The BBC's M Ilyas Khan in Islamabad says that although Mr Musharraf appears to be firming up a strategy to re-enter Pakistani politics, there is no real likelihood of him returning to the country in the near future.
He has said he will return before the next elections. Unless there are mid-term elections - which there are no signs of now - there will not be any before 2013, our correspondent says.
Another reason for a delay in returning is the apparent lack of the kind of political organisation that can win him an election in Pakistan.
He took power in a coup in 1999, ousting Prime Minister Nawaz Sharif.
After the 11 September 2001 attacks in the US, he made Pakistan a key ally of US President George W Bush's "war on terror".
Mr Musharraf's rule was marked by a series of confrontations with Islamic militants and the country's judiciary.
His decision to suspend the country's Chief Justice, Iftikhar Mohammad Chaudhry, in March 2007 backfired seriously and led to a major loss of his authority.