Hillary Clinton arrives in China on East Asia tour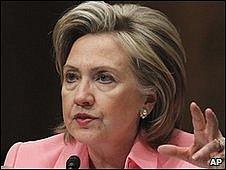 US Secretary of State Hillary Clinton is in China for talks on political and trade issues, on the second leg of a trip to Asia.
However, North Korea's involvement in the sinking of a South Korean warship is also likely to be on the agenda.
Mrs Clinton's week-long trip to Asia will also take in South Korea.
Earlier in Tokyo, she met the Japanese PM to discuss Japan-US ties and the future of the US military base on the island of Okinawa.
Mrs Clinton, her counterpart Katsuya Okada and Prime Minister Yukio Hatoyama addressed the dispute over where to move the US Marine Corps' Futenma base.
The previous Japanese government had agreed that the base was to be relocated to a quieter part of the island.
During campaigning for the election which brought him to power last year, Mr Hatoyama promised to try to move it off the island, a reluctant host to around half the US forces in Japan, the BBC's Roland Buerk in Tokyo says.
But it is becoming clear he will be forced to back down, after the US raised operational concerns and other islands refused to take the base.
Meanwhile, an international report blaming North Korea for the sinking of a South Korean naval vessel in March has raised regional tension.
China, North Korea's only major ally, has urged restraint and has refrained from criticising the North.
But the Japanese prime minister called the ship's sinking "unforgivable, an unbelievable act".
Japan is all too aware of the threat from North Korea, our correspondent says. Last year a missile being tested by Pyongyang flew over Japan before crashing into the Pacific.
Mr Hatoyama has said that if South Korea chooses to pursue new sanctions against North Korea at the UN Security Council, Japan - which has a seat - could spearhead the effort, our correspondent adds.