Suicide attack hits Afghan police in Paktika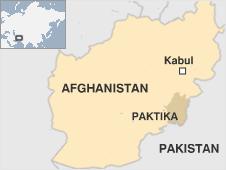 A group of suicide bombers launched an attack on a police base in the eastern Afghan province of Paktika, officials say.
At least one policemen and four militants were killed during the raid and the gun battle that ensued in Paktika's Urgun district.
It is the latest in a series of attacks on security targets across the country.
On Wednesday suspected Taliban attacked one of Afghanistan's largest and most heavily fortified US bases.
Ten insurgents were killed and seven US troops injured in a battle at Bagram airbase that raged for several hours.
That attack came one day after a suicide bomb attack in Kabul killed 18 people, including five US soldiers and a Canadian colonel.
Four suspected Taliban fighters were involved in the raid on the police base in Urgun. One drove a lorry carrying explosives into the entrance, killing a policeman in the blast, local officials say.
The three others militants were killed only after a prolonged gun battle with police.
Urgun is close to Paktika's border with Pakistan. Correspondents say that militants have carried out attacks from the volatile tribal areas across the border in the past.
In Kandahar, at least two people were killed when a car belonging to Afghanistan's intelligence agency was attacked.
Coalition forces are preparing to launch an offensive in the southern Taliban stronghold of Kandahar.
Earlier this year Nato and Afghan forces launched a major offensive against militants entrenched in neighbouring Helmand province and security forces are still engaged in operations around Helmand.