Japan interest rates kept at 0.1%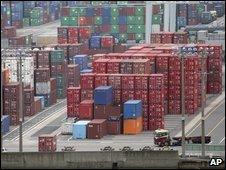 The Bank of Japan has kept interest rates on hold at 0.1%, as had been widely expected.
The central bank did not announce any new monetary easing steps, but did outline a loan scheme aimed at supporting growth industries.
It also upgraded its assessment of the Japanese economy, which it described as "starting to recover moderately".
However, the bank warned that the debt crisis in Europe needed watching for its impact on the global economy.
"The BoJ is aware of what is going on in Europe, but they want to avoid giving unintended policy signals," said Kyohei Morita, chief Japan economist at Barclays Capital.
"The new funding scheme isn't a policy change. It is just a new system."
Related Internet Links
The BBC is not responsible for the content of external sites.