Water charges deferral 'likely' - Sammy Wilson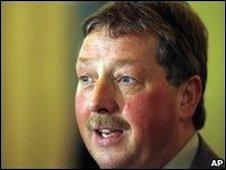 The finance minister has said that the introduction of water charges is unlikely before April 2012.
Sammy Wilson said that he doubted that there was enough legislative time to bring in water bills at the start of the next financial year.
He was responding to questions about how the executive could mitigate the impact of proposed spending cuts.
David Cameron said on Thursday that there would be cuts in NI and it was up to the executive how to implement them.
However, he warned that while the executive could defer savings, it could not postpone them indefinitely.
On Friday, Mr Wilson explained that the three options before the executive were to implement all the cuts in the current financial year, to defer some, or to postpone all.
He said that the chancellor George Osborne, who is due to give details on the extent of cuts next week, may expect savings in Northern Ireland of between £120m and £150m.
Mr Wilson said that he was reluctant to commit to any of the three options, until it was clear how much money was returned to the Department of Finance from unspent departmental budgets.
He explained that while that money had previously been redistributed, it may now be pertinent to use it to implement some of the necessary savings.
Mr Wilson explained that he doubted whether there was enough legislative time to introduce water charges in time for April next year.
The introduction of water bills has been repeatedly deferred since the executive was re-established three years ago.
Mr Wilson said that he would prefer his revenue to come from elsewhere.
He explained: "I would far rather that the executive would concentrate on our plan of how we can cut down the administration in Northern Ireland before we actually start finding ways of taking money off people."
He added that while he believed the introduction of water charges was "inevitable", it was important that the public believed the executive was making the best use of the money it already gathered.
Related Internet Links
The BBC is not responsible for the content of external sites.