Lindsay Lohan avoids detention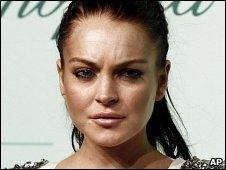 Actress Lindsay Lohan has avoided arrest when she returns to the US after securing bail of $100,000 (£70,000).
A judge had ordered her detention after she missed a probation hearing relating to a 2007 drink driving case because she was stranded in France.
She was unable to fly back from the Cannes film festival after her passport was stolen, according to her lawyer.
Further conditions to her probation have been imposed, including a ban on drinking alcohol.
The star will have to wear an alcohol-monitoring bracelet and make herself available for random weekly drug tests.
Lohan had been due in court for a progress report on her probation.
After missing her appointment, Judge Marsha Revel revoked Lohan's probation, issued the arrest warrant and imposed several conditions to her bail.
Her next court hearing will determine whether she is complying with those bail conditions.
A date for the hearing has yet to be determined.
Lohan's lawyer, Shawn Chapman Holley, said the star would be able to return to the US by Friday, after a replacement passport was obtained from consular officials in France.
But Judge Revel was not satisfied, and said: "If she wanted to be here, it looks to the court that she could have been here."
She added that the star had a history of missing appointments.
The actress was ordered to attend court after reports she had failed to complete alcohol education classes.
They were part of her sentence after being convicted of drink driving and other charges in 2007. She was also sentenced to one day in jail and community service.