Trust defends addiction provision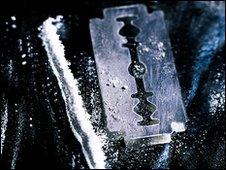 The head of addiction services in the Western Trust has rejected claims there is not enough help for substance abusers in the area.
Yvonne McWhirter said that while further investment would be welcome, there was adequate provision.
The parents of a man who died in Londonderry on Wednesday said a clinic was needed in the city.
There is currently an inpatient facility in Omagh and beds are funded at Northlands in Derry.
Emmet McFadden, 29, died suddenly on Wednesday. His parents said he was a regular cocaine user and have blamed drugs for his death.
His father Brian says direct action is now needed to deal with the drugs problem in Derry.
"Nobody should have to bury their children, my children should be burying me," he said.
"Three weeks ago he came to me and said 'Da, is there anything you can do for me'?
"Parents like me, I'm not trained, most people aren't trained on how to bring people off drink and drugs."
Ms McWhirter said the Western Trust provided a range of in-patient and out-patient programmes.
"What we have at the moment can deal with most need and if someone has a need that is outside of what we provide locally, we would access it elsewhere," she said.
"There is an early warning system that is linked to the Department of Health for any new drugs that come up and you saw a recent example of mephedrone being acted upon much more quickly than is usual.".
Emmet's mother Cathy appealed to all young people to stay away from drugs.
"Anybody out there who has a problem, please call for help. You don't want to end up like my son," she said.
A home-detox team, based in Woodlea House in Derry, is a recent addition to the area's anti-addiction network.
"I would never think that anyone that has an addiction is beyond help," said Ms McWhirter.
"I believe that we should be putting in services right across the spectrum. I certainly wouldn't write anybody off."
Related Internet Links
The BBC is not responsible for the content of external sites.