Early costs for Aberdeen bypass hit £100m mark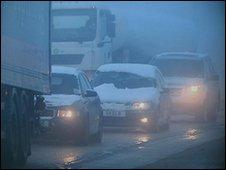 Costs associated with a planned bypass for Aberdeen are about to breach the £100m mark, the BBC has learned.
The project's managing agents confirmed that they had spent more than £99m on preparatory work and the compulsory purchase of properties.
More than half of the cash was spent relocating the city's International School away from the planned route.
Campaigners said the costs called into question the reality of the project's £400m total budget.
The aim of the scheme is to create a fast link between towns to the north, west and south of Aberdeen.
William Walton from the group Road Sense, which has lodged an appeal against the route at the Court of Session in Edinburgh, said: "It's an astronomical sum of money which I think the public should be very concerned about.
"The reason that it's got to this state of affairs is because the minister chose a corridor that had not been investigated then had to select a route and do a great deal of investigatory work."
In a statement, the project's managing agent John Wilson said such levels of spending were required to design, develop and promote a cost-effective scheme.
He said the planning and acquisition of properties in advance of any construction work would help avoid disruption to the timetable.
Transport Minister Stewart Stevenson has admitted the legal appeal against the chosen bypass route could delay the project's completion.
The scheme was due to be finished in 2012.
Related Internet Links
The BBC is not responsible for the content of external sites.