No release warning to man who terrorised elderly couple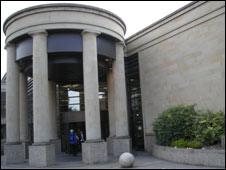 A judge has warned a violent criminal who terrorised an elderly couple in their own home that he may never be released from jail.
Thomas Mooney, 37, broke into Walter and Grace Colquhoun's house in Wishaw, Lanarkshire, in November and threatened to kill them.
He admitted the assault and robbery at an earlier hearing in January.
Judge Lord Pentland jailed him for a minimum of eight years and placed him on a lifelong restriction order.
The High Court in Glasgow heard Mooney is a serial criminal with previous convictions for rape, assault and drugs offences.
Lord Pentland told him: "You stand convicted of a despicable and cowardly attack on two elderly people whose home you violated.
"You have an appalling record. The gravity of the offences has escalated in seriousness. You also present a high risk to members of the public.
He added: "You will never be released unless the parole board are satisfied. It does not mean you will be released [afte eight years], indeed you may never be released."
Mooney originally appeared at the High Court in Edinburgh in January.
The court heard that the 37-year-old smashed his way into the elderly couple's home using pot plants, after Mrs Colquhoun, 79, told him to go away when he rang the doorbell.
He threatened Mr Colquhoun, 82, with a screwdriver, telling him: "I'm gonna get in and kill you."
When police arrived at the scene they found Mooney in the house carrying a flat screen TV under one arm and a jewellery box and Christmas cards under the other.
The court heard the bill for the damage caused was between £4,000 and £5,000 and the couple were so traumatised they were unable to go back home for some time after the incident.
Related Internet Links
The BBC is not responsible for the content of external sites.