Online ticket touts 'make 59% average profit'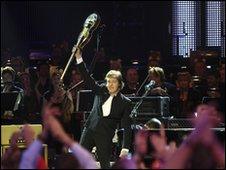 Touts are selling tickets for major sports and music events on online auction sites with a typical profit of 59%, research has claimed.
Prices are being inflated after touts snap up tickets for events which they have no plans to attend.
The more traditional operation also continues when touts target fans outside gigs and matches and charge huge mark-ups, security group G4S said.
It said a "committed tout" could earn more than £28,000 a year.
This is more than the average UK salary and can be achieved by selling about 10 tickets a week.
The average mark-up on online black market tickets has fallen from 64% in 2009 and 71% in 2008 owing to a better supply of tickets on the internet, according to the G4S Events' 2010 Ticket Tout Index.
However, the mark-up was higher than the average during the previous two years.
Tickets for music festivals - including headline events such as the Reading Festival - are being offered online with an average mark-up of 32%. However, individual gigs were not securing as big a premium as previous years, the research found.
Some key events still attract large price tags. Examples from the survey include:
A pair of Paul McCartney tickets sold for £450 - some 235% over face value
Two tickets for the V Festival sold for £430. The pair had a face value of £162.50
A £35 international rugby ticket selling for £85.
Outside sports stadiums, G4S said they found touts exaggerating the view of the pitch from those seats.
"Fans continue to pour thousands of pounds into the wallets of the touts," said Mark Hamilton, managing director G4S Events.
"But, fans should be aware that in buying tickets from unauthorised outlets, they could find themselves barred from entering events if their tickets are found to be fraudulent, or their identification does not match up with the ticket purchaser."
It is not a crime to resell concert tickets in the UK, and many secondary ticketing websites - which sell on tickets, often for inflated prices - deliver on their orders.
Last year, a code of conduct was set up by the Office of Fair Trading and the Society of Ticket Agent Retailers (Star) to cover box office and online vendors.
However, it does not cover sales on eBay, nor on many unregulated reselling sites.
A separate code of conduct is also in place which covers businesses that sell on tickets to entertainment and sporting events.
The code, run by the Association of Secondary Ticket Agents, says that consumers must be dealt with fairly, and businesses have a robust complaints procedure and refunds policy in place.
Researchers for G4S found many "phantom tickets" for sale, when tickets are advertised for sale before they have been released to the public.
Many cases of loss have happened when people trying to get refunds are unable to contact the seller - often online - because they have disappeared.
There are opportunities to claim money back from credit or debit card providers if a customer paid by card and tickets failed to arrive.
Whenever anyone buys a ticket, they are entering a contract, so the terms and conditions are key to explaining what rights people have if an event is cancelled or the tickets fail to arrive.
Related Internet Links
The BBC is not responsible for the content of external sites.