Welsh study looks at family role in drink and drugs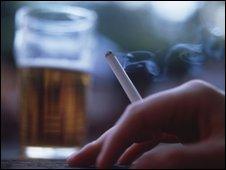 Researchers in Wales are to trial a scheme that aims to help families stop youngsters turning to drink, cigarettes and drugs.
More than 700 families from six counties will take part in the Strengthening Families Programme over seven weeks.
Parents, carers and children will study communication and parenting skills.
It will be run by Cardiff, Swansea and Oxford Brookes universities and part-funded by the assembly government.
Research in the United States has shown that the Strengthening Families Programme (SFP) can help reduce alcohol, tobacco and drug use among young people.
Now the Welsh research trial, called Project SFP Cymru, aims to see if it can achieve the same results in Wales.
Researchers say many factors which protect young people against substance misuse are found within the family.
Over 700 families in Swansea, Carmarthenshire, Flintshire, Caerphilly, Merthyr Tydfil and Wrexham will take part in seven two-hour sessions.
Half will be selected at random to take part in the programme, with the other half acting as a comparison group.
A team from Cardiff University will monitor the results for two years after families enter the trial.
They will examine its success in reducing drinking, smoking and drug use, and also the young people's mental health and success at school.
The extent to which the programme provides value for money will also be assessed within the research project.
Professor Laurence Moore of Cardiff University said: "Alcohol, tobacco and drug use are major threats to the health and well being of young people in Wales and are also linked to anti-social behaviour, crime and poor school performance.
"The SFP is a promising programme based on one found to delay substance misuse in young Americans. We want to find out whether it works here."
Related Internet Links
The BBC is not responsible for the content of external sites.