Justice call over police disability pensions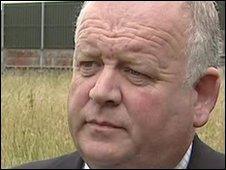 The Department of Justice is to be asked to examine the appeals process surrounding police disability pensions.
Some officers, who were injured during the troubles, are claiming their pensions are being withdrawn unfairly.
It is understood there are currently around 150 cases under appeal.
The company carrying out the assessments, Capita, has said the system is independent.
The cases have been reviewed as part of a regular reassessment.
Trevor McIlwrath, who was a former member of the RUC, said it was putting former police officers under "unbearable pressure".
"Some police officer is going to end up taking their own life if something is not done about this," he said.
Jimmy Spratt, a DUP member of the Policing Board, who is a former police officer, wants an immediate review of the system.
"Clearly now that the Department of Justice is now in existence and that the policing issue has been devolved, we need to reinvigorate our efforts to get the process sorted out," he added.