Vauxhall workers agree pay freeze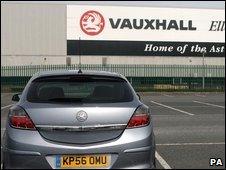 Workers at Vauxhall's plants in Ellesmere Port and Luton have agreed to a two-year pay freeze as part of a Europe-wide restructuring deal.
The Unite union, which represents Vauxhall workers, has signed an agreement with General Motors, which owns Opel/Vauxhall in Europe.
Workers in Germany have signed a similar deal.
GM said the UK agreement would save it 26.5m euros (£23.1m), with cuts worth 265m euros planned across Europe.
The two-year pay freeze in the UK has already begun, GM said, starting at the beginning of 2010.
Cost savings in GM's UK pension schemes have also been implemented, and a total of 519 jobs have gone from the Luton plant, which makes the Vivaro van, and at the company's headquarters.
Vauxhall is currently in talks with Renault to build the next-generation Vivaro as a joint venture at Luton.
No jobs are being lost at Vauxhall's Ellesmere Port plant, which will become the only plant manufacturing the Astra model later this year.
In Germany, Vauxhall's sister brand Opel has agreed cuts worth 177m euros with its workers, with about 4,000 jobs expected to be lost.
A pay freeze has also been agreed, along with cuts to holidays and bonuses.
In return, Opel plans to invest in the development and manufacture of a new small car to replace the Corsa model.
Opel/Vauxhall's chief executive Nick Reilly said the European agreements with workers were "important steps" in the process of creating a new sustainable company.
"Employees demonstrated that they are ready and willing to contribute to the company's future when they are offered security and long-term prospects in return," he added.
General Motors initially planned to sell off Opel/Vauxhall last year as it sought to streamline its operations following the global collapse of the car market.
However, it cancelled the planned sale in November, pledging instead to restructure and invest in the business.
Related Internet Links
The BBC is not responsible for the content of external sites.