Justice system 'favours wealthy' says judge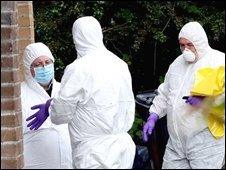 The justice system appears to have an in-built bias favouring people from wealthy backgrounds, a judge has said.
Mr Justice McLaughlin was speaking during the case of Neil Wilson, of Orchard Mews, in the Newtownbreda area of south Belfast, who murdered Shane Cunningham in July 2008.
Wilson was on bail, on a suspended sentence and on probation for three different offences at the time.
The courts missed chances to "come down with a heavy hand" on him, he said.
The judge has already imposed a mandatory life sentence on Wilson after he was convicted by a jury last month of the murder.
Mr Justice McLaughlin said Wilson had been given more chances than most people because he presented himself in the magistrates' courts as someone from a decent and impeccable family with a partner and children.
The judge told Downpatrick Crown Court that if Wilson had been from a rougher background and a previous incident at Cutter's Wharf pub in the Stranmillis area "had happened in a lowlife pub in another part of Belfast rather than in a bar in a leafy suburb, he would have had the book thrown at him".
The court heard an argument had developed between the accused and Mr Cunningham in the dead man's brother's home at Woodbreda Park, off the Saintfield Road.
They had been drinking heavily and Mr Cunningham's ability to defend himself would have been greatly reduced, the court was told.
Mr Cunningham's brother Brian found his body the following morning.
The accused, who worked as a chef, had been on bail for disorderly behaviour after carrying a golf club into the Cutter's Wharf pub two months before the killing.
The judge said: "He put a knife into Shane's chest but if he had let rip with the golf club, would it have been any different?"
Wilson was also on probation at the time for disorderly behaviour in Portrush and on a suspended sentence for a similar offence in Belfast.
The court heard that probation staff said Wilson posed a continuing risk to the public through his drinking, violence and loss of self control.
A defence lawyer said Wilson now acknowledged he had a problem with alcohol and wanted to seek counselling in prison and also to undertake an anger management course.
Mr Justice McLaughlin said there was no evidence that the murder was pre-planned or pre-meditated and that relationships between Mr Cunningham and the defendant had been largely convivial as they drank in a bar before returning to Woodbreda Park.
He said no-one knew what happened in the house but "something arose spontaneously".
The judge will sentence Wilson next week, but told him he will be going to jail for a considerable number of years.