History lessons strike a new note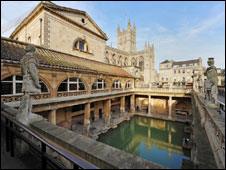 We all know how difficult it can be to get a catchy tune out of our heads.
Now teachers are hoping to capitalise on that by encouraging primary children to recall key historical events by singing about them.
National campaign Sing Up has specially commissioned songs to help strike a new note in history lessons.
It comes as a poll of 1,762 adults suggests nearly half do not know the Romans built Hadrian's Wall or that Nelson won the Battle of Trafalgar.
And one in three did not realise Charles Darwin was English.
The campaign has joined with some of England's key historical attractions to offer pupils specially-composed songs to sing as they travel there.
Those visiting Stonehenge are being encouraged to sing: "Quarry the stones, our poor aching bones, Working together, far from our homes."
And those on a trip to Canterbury Cathedral, would be urged to sing about the murder of Thomas Becket on the instructions of King Henry II.
"'Who will rid me of this priest?' Henry cried aloud. Four knights heard his plea that night, Becket must be found," the song goes.
It is hoped that primary school pupils will memorise the songs, by composer Jan Faulkner, as they go on school trips.
Historian and Timewatch television presenter Kate Williams said the survey results suggested "the facts that make up the historical fabric of our country are in danger of being lost".
She added: "All the evidence shows that singing is a superb learning aid and Sing Up's School Trip Singalong will encourage schools across the country to get involved in learning and singing about some of the greatest monuments in our national heritage."
Other songs feature the Vikings and their longships as wells as Roman bathing habits.
Teachers will be able to download the songs from the Sing Up website.
And a special school bus will commence a tour of schools, giving pupils the chance to take part in school trip singalongs.
Populus interviewed a panel of 1,762 adults for the survey in April over the internet.
Related Internet Links
The BBC is not responsible for the content of external sites.