Health board confirms job losses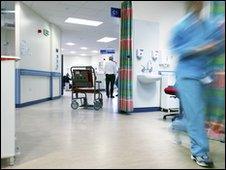 A health board has confirmed its plans to axe 700 jobs.
NHS Lothian said the measure was part of a £31m cuts drive for 2010-11.
The organisation said it wanted to reduce the number of agency and bank staff it uses.
A spokeswoman for NHS Lothian said: "Due to the financial challenges, NHS Lothian is looking at ways to increase our productivity and efficiency, while continuing to deliver high standards of patient care."
The health board's cuts plan will be put before board members next week.
NHS Lothian has previously said it would axe about 2,000 workers during this financial year and the next.
It employs about 29,000 staff and the job cuts are expected to be made by not replacing workers who leave or retire.
Scottish Labour leader Iain Gray blamed the cutbacks on the SNP.
He said: "It is impossible to axe over 700 posts, including 333 nurses, without having an impact on the frontline and undermining patient care."
It has been estimated that NHS Lothian is receiving £69m less than it should, according to a new funding formula by the Scottish government.
At first minister's questions on Thursday, First Minister Alex Salmond said the percentage of spending on the NHS had increased in the SNP's term of office and there were 10,000 more staff in the health service than when they took office.
The new Conservative-Liberal Democrat government at Westminster is publishing an emergency Budget next month, which is expected to include measures to cut £6bn from public spending this year.
Related Internet Links
The BBC is not responsible for the content of external sites.