Red tape 'killing fishing industry'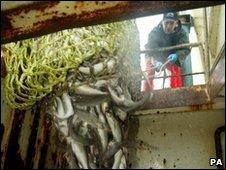 Many fishermen are facing bankruptcy because of over-zealous environmental legislation, an industry body has warned.
The Scottish Fishermen's Federation will tell a seminar in Glasgow later that "shaky science" has been used to "exaggerate" the poor state ofstocks.
It will also say members have made "huge sacrifices" towards sustainable harvesting.
The seminar is taking place as part of the Fishing 2010 exhibition.
Bertie Armstrong, chief executive of the Scottish Fishermen's Federation, will tell the seminar that the balance of legislation may have tipped too far in the direction of environmentalists.
Speaking ahead of the event Mr Armstrong said: "The doom-laden scenario for fisheries as painted by many environmentalists is certainly not one that applies to Scotland.
"We have recognised there has been a problem and have acted responsibly, including engaging in dialogue with responsible environmental organisations such as WWF Scotland.
"We now have the situation where many environmentalists exaggerate the state of fish stocks based more on their own agendas and shaky science rather than true fact."
Mr Armstrong said "urgent action" was needed from the UK government and European Union "to put in place a new management regime that recognises the efforts and sacrifices made by our industry".
Related Internet Links
The BBC is not responsible for the content of external sites.