Assembly broadcaster up for sale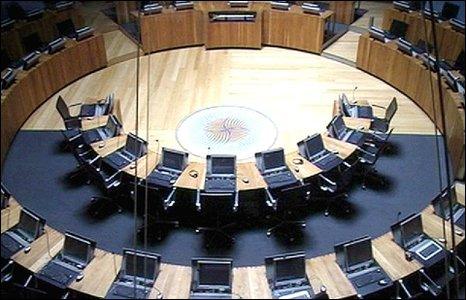 The media group which hosts live broadcasting of proceedings from the Welsh assembly is up for sale.
Caernarfon-based Barcud Derwen has run into cash-flow difficulties, according to a report in The Western Mail.
Business advisors Grant Thornton have been brought in to find a buyer for the firm, which claims to be the largest TV facility firm outside London.
Bercud Derwen's management would not comment ahead of a meeting next week.
The newspaper report claims the group's directors engaged Grant Thorton after deciding it was "unable at trade through its current cash-flow difficulties and should enter administration".
It is understood that a sale is being sought, either as a whole or of its 11 divisions in part, within a 10-day window, while the group continues trading.
Barcud Derwen boasts being the largest TV facilities company outside London, with services including outside broadcast and post production.
One part of the firm, Barcud, was established in 1981. In 1997, it merged with Cardiff-based media firm Derwen.
One of the new group's first success was landing the exclusive contract to relay television pictures from the assembly's main chamber and its committees to broadcasters.
This contract was renewed in 2005.
The media group's 6,500 square ft studio facility in Caernarfon has hosted BBC1's Question Time current affairs programme.
Related Internet Links
The BBC is not responsible for the content of external sites.