Rare stamp sells for record price in Geneva auction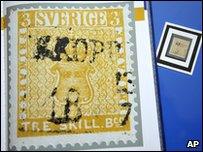 One of the world's rarest stamps has fetched a record price at auction in Switzerland, organisers told the BBC.
It means the Swedish Treskilling Yellow keeps its title as the world's most expensive stamp after changing hands in Geneva.
However the buyers have chosen not to disclose how much they paid.
The stamp - a version of a 1855 three shilling stamp which was meant to be printed green - is believed to be the last of its kind.
Auctioneer David Feldman said the stamp was the world's most valuable object by weight.
The auction house had estimated it would sell for 1.5 million to 2 million euros (£1.3m - £1.7m).
Mr Feldman said the seller was "delighted".
All bidders in Saturday's auction were sworn to secrecy.
The stamp was last officially sold in Zurich in 1996 for 2.88 million Swiss francs (then about $2.3 million), a new world record for a single stamp.
The 1856 British Guiana 1 cent Magenta is regarded as the most well-known of rare stamps, but has been kept in a vault since it changed hands in 1980 after it was bought by tycoon John du Pont.
The heir of the du Pont business is currently serving a murder sentence.
The Treskilling Yellow is "one of about a half dozen highly notorious stamps in the world," according to Robert Odenweller, a US stamp expert.
According to the auction house, which has billed it the "Mona Lisa of the philatelic world", the stamp has a "chequered past" and been in the hands of a host of different figures, including a Romanian King.
It is said to have been discovered in 1885 by a 14-year old schoolboy from Stockholm who found it while looking through his family's correspondence.
Related Internet Links
The BBC is not responsible for the content of external sites.