Picasso work taken as art thieves strike in Marseille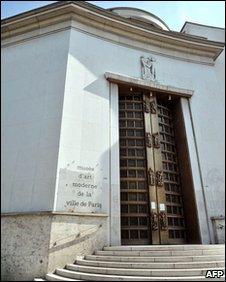 Thieves have stolen five pictures, including a lithograph by Picasso, from the home of a private collector in southern France, police sources say.
The owner was beaten up during the robbery at his Marseille home.
The value of the stolen works has not yet been made public.
The theft came a day after paintings worth just under 100m euros (£86m; $123m) by Picasso, Matisse and other major artists were taken from a museum in Paris.
In the latest theft, judicial police said two men managed to get past two security gates at the collector's Marseille home and then knocked at the door, AP news agency reported.
According to Reuter, the most important work taken was a lithograph of a woman's face painted by Picasso.
The works missing after Thursday's theft in Paris are: Dove with Green Peas by Pablo Picasso (painted in 1911); Pastoral by Henri Matisse (1906); Olive Tree near l'Estaque by Georges Braque (1906); Woman with Fan by Amedeo Modigliani (1919); and Still Life with Candlestick by Fernand Leger (1922).
Paris Mayor Bertrand Delanoe has admitted one of the alarms at the Museum of Modern art had been "partly malfunctioning" since the end of March, and had been awaiting repair when the theft happened.
Related Internet Links
The BBC is not responsible for the content of external sites.