Fire crews deal with almost 100 gorse fires at weekend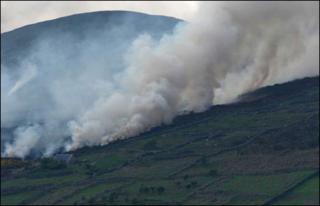 Fire crews were called to almost 100 gorse fires across Northern Ireland on Saturday.
A major fire at Camlough near Newry needed 70 firefighters to deal with it and one in Sixmilecross near Omagh tied up 30 firefighters.
Fire and Rescue Service area commander Brian McClintock said most gorse fires are started deliberately.
"I think many of the young people in particular involved don't appreciate the danger," he said.
"And that's not just the danger to other people but it's the danger to themselves, because these fires can develop quite quickly
"And of course, there's massive implications and dangers for the firefghters who respond to these incidents."