Call for quicker Aberdeenshire flood prevention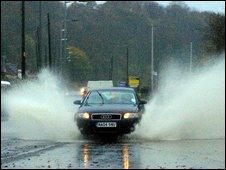 A public meeting is to be held in an Aberdeenshire town to hear about the measures being taken to prevent flooding.
Huntly was badly affected by heavy rainfall in November.
Dozens of houses and a nursing home were flooded when water flowed from the River Deveron.
It will be at least four years before new national flood risk management plans are in place but people in Huntly want action quicker than that.
Stonehaven was also badly affected by the floods.
Aberdeenshire Council are suggesting a range of solutions, including raised embankments.
Residents will be told about progress at the meeting.
Meanwhile, a survey of Aberdeenshire councillors going before a council committee this week highlights concerns about the need for better warning systems, the availability of sandbags and a range of other issues.
Related Internet Links
The BBC is not responsible for the content of external sites.