Salmond defends deferral of cuts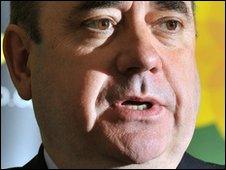 First Minister Alex Salmond has defended the Scottish government's decision to defer for a year its share of the UK government's public spending cuts.
His comments came as UK Chancellor George Osborne prepared to announce his first £6bn in savings.
Mr Salmond said making cuts this year would not protect Scotland from those in the following year.
He also argued economic recovery had to be sustained.
The Tory-Lib Dem government at Westminster said cuts must be made quickly to show Britain was serious about cutting the deficit.
Mr Salmond, who is meeting with UK devolved leaders on Monday, told BBC Scotland's Politics Show it was not sensible to tear up budgets which had already been allocated.
"Implementing the cuts this year doesn't protect you from cuts the following year," he said.
The first minister said: "The difference can be made in not causing chaos to budgets already set in local government, the health service and elsewhere, and, secondly, you won't get lost jobs in Scotland this year."
Mr Salmond said the economic picture was less severe than forecast.
He added: "If we're into serious politics here, then let's think seriously about the impact of trying to nourish the recovery in the Scottish economy and trying to sustain jobs and employment."
Meanwhile, Scotland Office minister David Mundell told BBC Scotland he hoped draft legislation to hand more powers to the Scottish Parliament could be launched in the autumn.
The Queen's Speech on Tuesday is expected to contain a Bill on increased Holyrood tax powers, as recommended by the Calman Commission review of devolution.
Mr Mundell said the issue would be taken forward in consultation with the Scottish government.
However, Mr Salmond said the Calman proposals had been overtaken by the UK government's plan to pay for a rise in the income tax allowance with personal increases in National Insurance, under which money would go straight to the Treasury.
Related Internet Links
The BBC is not responsible for the content of external sites.