'Incredible' escape after car's 270ft Powys ravine fall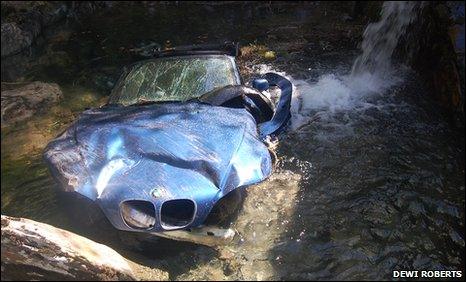 A man and woman had an "incredible" and "mind-boggling" escape when their sports car fell 270ft (82m) down a ravine in Powys, say rescuers.
The BMW car hit a tree and bounced at least twice to land on all four wheels in a plunge pool.
The pair, in their 50s, were airlifted near Dylife, on the road between Machynlleth and Llanidloes.
Mark Jones, of Brecon Mountain Rescue team, said: "If you saw that in a film you would think it was far-fetched."
The alert was raised at around 1140 BST after a crash involving two vehicles, one of which left the road.
Around 25 firefighters from Mid and West Wales Fire Service were involved in the operation to reach the couple.
Mr Jones said his team arrived as the casualties, a man and a woman, were being hoisted into the rescue helicopter which was hovering below the level of the road from which the car had crashed.
He calculated the distance car plunged on its way down
He said: "I have never seen anything like it. The word 'awesome' is overused.
"If you looked at the distance that they have fallen, you would not think there was any chance they would survive.
"They mounted the crash barrier and through a series of clipping trees and exactly the right bit of ground, they have landed in a little pool in a stream at the bottom of the cliff.
"It landed on all four wheels in just the right place - six feet either side and they would not have survived.
"It was absolutely mind-boggling how they pulled it off.
"As I understand it, the expectation was to go down there and just find a couple of bodies.
"In 25 years in mountain rescue, I have never seen anything like this and find it incredible that anyone survived this crash, let alone that they were relatively unhurt."
The pair managed to free themselves and were helped by fire crews before an RAF helicopter winched them to safety and flew them to hospital.
Rescuers gave first aid at the scene.
Brecon Mountain Rescue Team ensured the rescuers made their way back up the ravine safely.
The RAF Valley crew said the couple had been "very lucky". Although the man had head and shoulder injuries, he was not believed to be seriously hurt.
The woman had slight injuries and was also airlifted to hospital in Bangor.
Related Internet Links
The BBC is not responsible for the content of external sites.