Firefighters tackle blaze on Castlereagh Road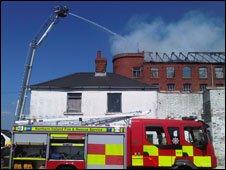 Fire crews are dealing with a blaze at a derelict building in east Belfast.
It is understood that no-one was inside the building on the Castlereagh Road when the fire started on Sunday afternoon.
At this stage police are unable to confirm how the fire broke out.
Part of the road has been closed to traffic as a result of the blaze.