Iran seeks prisoner swap involving three US 'hikers'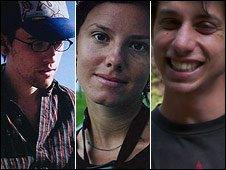 Iran's intelligence minister has called on Washington to propose a prisoner swap to secure the release of three US citizens arrested last July near the Iraq border.
Heydar Moslehi said he had no doubt they were spies.
Shane Bauer, 27, Sarah Shourd, 31, and Josh Fattal, 27, have been charged with espionage.
Their families said they were hiking and strayed over the border accidentally.
Tehran allowed the mothers of the three detainees to meet them last week, but ignored repeated pleas for their release.
US Secretary of State Hillary Clinton has called for the three to be freed.
The case has further strained relations between Washington and Tehran, which are at loggerheads over Iran's nuclear programme.
"The status of these three Americans as spies is clear and explicit. There has been no discussion concerning a swap," Mr Moslehi said in comments reported by the semi-official Fars news agency.
"Our expectation is that the Americans, with their claim on human rights issues, should initiate an action so that we can decide on whether or not there would be one."
Iranian President Mahmoud Ahmadinejad suggested in a US TV interview last September that the Americans' release might be linked to the freeing of Iranian diplomats he said were being held by US forces in Iraq.
And the Iranians accuse the US Central Intelligence Agency of abducting one of their nuclear scientists while he was on pilgrimage in Saudi Arabia last year.
US state department spokesman PJ Crowley said last Thursday that Washington was not contemplating any kind of a prisoner swap.
"But if Iran has questions about any of its citizens and whether we have any information as to their whereabouts, we would be more than happy to receive that diplomatic note and respond to it," he said.
He described the three Americans as innocent tourists, adding: "It is time for Iran to do the right thing by releasing these three young Americans and allowing them to go home and be reunited with their families."
Related Internet Links
The BBC is not responsible for the content of external sites.