Iceland's Eyjafjallajokull volcano reduces activity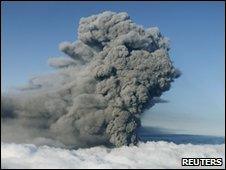 The Icelandic volcano which has been disrupting air traffic for more than a month is showing a marked drop in activity, new measurements suggest.
Experts say the temperature in Eyjafjallajokull's crater appears to have fallen to 100C, meaning it is now producing steam, not magma.
But officials warned that it was too early to say whether the eruption was over completely.
Ash clouds from the volcano grounded thousands of flights last month.
Steinunn Jakobsdottir, a geophysicist from the Icelandic Meteorological Office, told the BBC that the volcano was "kind of dormant for the moment".
"The history of the volcano is such that it calms down and then it gets energy again," she said.
"There are still earthquakes under the volcano, and the tremor is still not quite down to what it was before the eruption."
Magnus Gudmundsson, of Iceland University, flew over the volcano on Sunday and said evidence from heat cameras indicated the temperatures at the crater had fallen below 100C.
But he told the AFP news agency that nothing was guaranteed and that the previous eruption at the volcano had lasted 13 months, from 1821-23.
"It stopped and started again several times with different intervals, so it's difficult to say, difficult to give a timeline," he said.
He also said it was impossible to say whether the neighbouring Katla volcano - a much larger mountain - might also erupt.
At the height of its activity, the volcano sent out huge clouds of ash, which led to airlines grounding their planes for fear it could interfere with jet engines.
It was the biggest shutdown of airspace in Europe since World War II, and affected at least 10 million passengers worldwide.
Related Internet Links
The BBC is not responsible for the content of external sites.