Bangkok gets back to business after deadly protests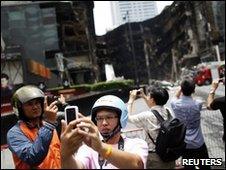 Offices, schools and businesses have reopened in Bangkok, days after a violent end to weeks of protest.
Residents within what was the "red-shirt" protest zone are continuing to clean up, as services return to normal.
But the military said it would recommend a curfew remain in force in Bangkok and 23 provinces for another week.
Nine weeks of protests that left more than 80 people dead ended when troops stormed the protest area last week.
An overnight curfew has been in place ever since, and the military said it would urge the government to keep it in force between the hours of 0000 and 0400 for the next seven days.
"There are still some movements to incite unrest. The curfew will facilitate the authorities' work," army spokesman Colonel Sunsern Kaewkumnerd said.
On Sunday Prime Minister Abhisit Vejjajiva said in his regular TV address that "everything is calm and returning to normalcy".
He said he would be returning to his usual home and office addresses, after spending the past nine weeks in an army base in the north of the city.
On Monday the overground railway, the Skytrain, and the underground both returned to normal service, along with public buses.
However, the burned-out ruins of several major city landmarks remain as a reminder of the recent unrest.
The political programme remains unclear. The government says it is pursuing a road-map, a general five-point outline of ideas about national reconciliation.
Analysts suggest a new election will need to be called, but Mr Abhisit has said his plan is to wait until he has assessed "the lay of the land".
On Monday opposition lawmakers filed a motion to impeach Mr Abhisit and several other ministers over their handling of the crisis.
But the motion was expected to be defeated, as the prime minister's coalition has a majority in parliament.
As for the protesters, some red-shirt leaders have said they are planning new rallies both in Bangkok and elsewhere.
The red-shirts were demanding the resignation of Mr Abhisit, saying his government came to power illegitimately.
Many of the protesters in Bangkok came from the north and north-east of Thailand, where support for former Prime Minister Thaksin Shinawatra, ousted in a 2006 military coup, remains strong.