Poison singer Bret Michaels wins Celebrity Apprentice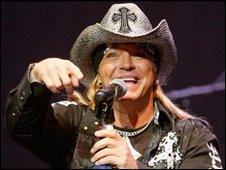 Poison singer Bret Michaels has won US TV show Celebrity Apprentice weeks after suffering a brain haemorrhage.
The rocker, 47, won $250,000 (£172,756) for his nominated charity, the American Diabetes Association.
The host, Donald Trump, told Michaels he was "popular, imaginative and brave", saying "everyone loves you".
Michaels suffered a mini-stroke last week, with tests showing he also had a hole in the heart. It is believed to be unrelated to the brain haemorrhage.
His heart condition is operable but he will receive blood thinners and be treated as an outpatient for the time being.
There were doubts over whether the singer would be able to make the live final of Celebrity Apprentice, but he did manage to make it to the studio.
Michaels beat actress Holly Robinson to the top prize.
The singer, who suffers from diabetes, underwent an emergency appendectomy two weeks before suffering a brain haemorrhage on 25 April.
Metal band Poison scored eight hits in the UK between 1988 and 1993, including Unskinny Bop and Every Rose Has Its Thorn.
Related Internet Links
The BBC is not responsible for the content of external sites.