Profile: Christopher 'Dudus' Coke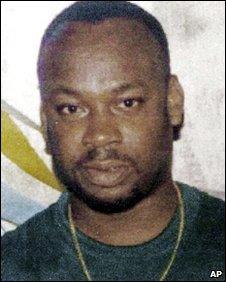 To his supporters, Jamaican Christopher Coke is a public-spirited businessman. But to many officials, he is a drug lord whose activities span the Caribbean, North America and the UK.
The US justice department placed the leader of the notorious Shower Posse gang on its "world's most dangerous" list, while Jamaica's former national security minister, Peter Philips, recently described him as probably the most powerful man in the country.
Mr Coke was arrested in June 2010 while on his way to surrender to the US embassy in Kingston, weeks after his supporters engaged in a bloody battle with the security forces to halt his extradition for trial in New York.
In August 2009, US authorities charged him with organising deals of marijuana and crack cocaine, and funnelling the profits along with weapons back to Jamaica.
He has admitted at a New York federal court charges of racketeering and conspiracy to commit assault with a dangerous weapon.
The extradition request greatly strained relations between the US and Jamaica, which initially fought the move, arguing that it was based on flawed evidence. It also exposed the links between Jamaican politicians and gang leaders.
Mr Coke's life has been racked by violence. Two of his brothers and a sister have been shot dead.
His father Lester, also known as Jim Brown, was the leader of the Shower Posse, which derives its name from "showering" communities with bullets and was blamed for more than 1,000 murders during the 1980s.
He died in 1992 in a mysterious fire in his prison cell, while awaiting extradition to the US on drugs and murder charges. It also occurred on the same day as the funeral of Mark Coke, Dudus' brother.
According to the US authorities, Mr Coke stepped into his father's shoes, running the Shower Posse and developing extensive business interests, including an entertainment company and a construction company.
Until last year he enjoyed substantial protection from the ruling Jamaican Labour Party and Prime Minister Bruce Golding, whose parliamentary constituency is Tivoli Gardens, a West Kingston district that the Shower Posse controls.
In an interview in December 2009, Tom Tavares-Finson - his lawyer until recently, and a Jamaican senator - said his client was a legitimate businessman, not a gang leader.
"Nobody has heard of him being involved in any criminal activity," he told the Jamaica Observer.
Mr Tavares-Finson described his former client as "just an ordinary Jamaican going about his everyday business… trying to improve the lot of his children, his family and his community, with a recognition that he has an influence, and he takes his influence very seriously, and that influence is what is propelling the transformation of western Kingston".
He said people were turning his client into "a mythical character".
"That is not his doing. Left to his own devices, he would not be on the front page of any newspaper," he added.
According to Jamaican media, Mr Coke is more like a "godfather" to Kingston residents - a benefactor providing the means for food and schooling.
Loyal residents have been taking to the streets in their hundreds to voice their support for the man they call the "president", "general", "shortman", or most commonly "Dudus".
"Jesus died for us so we will die for Dudus," read one placard.
When the Jamaican government bowed to heavy US pressure and announced in May 2010 that it would extradite Mr Coke, the Shower Posse and his supporters attacked police stations in Tivoli Gardens.
The assault prompted the declaration of a state of emergency in Kingston and the biggest mobilisation of the security forces in Jamaican history.
Hundreds of soldiers were deployed to help the capital's police force sweep through Tivoli Gardens and surrounding areas in search of Mr Coke.
The troops fought pitched battles for several days with heavily-armed gunmen, who barricaded the streets. Thousands of people were trapped in the area and the clashes resulted in the deaths of more than 70 people.
Despite the assault, Mr Coke was able to escape and went on the run.
He was eventually arrested nearly four weeks later by policemen "acting on intelligence" at a vehicle checkpoint on the outskirts of Kingston.
He is scheduled to be sentenced on 8 December, when he could face up to 23 years in prison.
Related Internet Links
The BBC is not responsible for the content of external sites.