No political will on NI Health Service - Gerry Robinson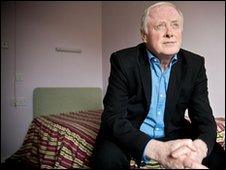 The businessman Gerry Robinson has accused Northern Ireland politicians' of lacking the will to make tough decisions to improve the health service.
Mr Robinson, the former head of Granada, was speaking ahead of a BBC NI documentary 'Life Matters' where he looks at the performance of the Belfast Health Trust.
It follows an earlier series 'Can Gerry Robinson Fix The NHS?', a fly-on-the-wall series in which Mr Robinson, who now lives in Donegal, attempted to bring his business acumen to struggling areas of the health service.
Speaking to BBC NI health correspondent, Marie-Louise Connolly, Mr Robinson said that he was not calling for hospitals to be run like businesses, but rather to be run in "a more business-like way".
He added that those running the health service needed to see the big picture.
"Start off saying - what have we here now?
"Not try and save tuppence here and fourpence there but the big picture stuff," he said.
"My sense is that doesn't happen in Northern Ireland, maybe more than most, because that political fear of doing something is so strong."
Mr Robinson said that Northern Ireland had more hospitals than Birmingham, despite having a similar population, and that there was "little doubt" the number of hospitals needed to be reduced.
He added: "I know that is something which is difficult locally but when you are managing something you have to make decisions which are not going to be popular all the time. Politicians find that extraordinarily difficult."
He said the fact that politicians seek re-election made it difficult for them to make tough choices.
"They are all terrified of doing something which is going to be unpopular. It's a terrible starting point if you have to meet political ends," he said.
"Good decision making is about how something is run. It's not about who you please, but about what is the right thing to do."
He also emphasised that he was impressed that some in the Belfast Trust were attempting to make the right savings.
But, he added: "My sense was that politically, that was not going to be acceptable and that the politicians were actually talking them out of making the savings that should have been made if it had been run in any normal way."
Assembly health committee chair Jim Wells said that he disagreed that politicians were not acting in the interests of the community.
He added that comparing Northern Ireland with Birmingham was "inaccurate".
"Birmingham is a very tight-knit, compact area, we range from Belleek to Ballycastle," Mr Wells said.
"If you go down the line of what he is proposing then you have one or two acute hospitals in Northern Ireland and people who are stranded maybe two hours away from the nearest A&E."
The DUP South Down MLA said that the focus should be on consultants who were the "tail wagging the NHS dog".
He explained: "Much of what is going on in Northern Ireland and the problems we are facing is not due to a lack of resources but the fact that consultants are not cooperating. They are not prepared to work in the rural hospitals, and they are basically dictating when they do and do not work."
"Life Matters" is on BBC1 on Monday night at 2235 BST.