University places in spending cut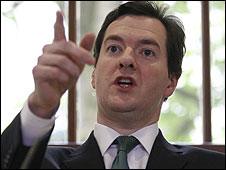 Extra university places and school services in England are to be cut in the coalition government's drive to reduce public spending.
Cuts of £200m to the university budget will mean 10,000 fewer extra places than had been announced.
The Department for Education is to be cut by £670m - including £311m for council spending on schools.
The savings are intended to be part of public spending reductions of £6.25bn.
The spending cuts were announced by the Chancellor George Osborne and his Chief Secretary David Laws.
"We need to tackle the deficit so that our debt repayments don't spiral out of control," said Mr Osborne.
The cuts in university expansion come at a time of unprecedented demand for places - up 16.5% on last year.
There could be 100,000 more people looking for university places this autumn than last year.
The last Budget of the previous goverment had promised an extra 20,000 places - with the Liberal Democrats then offering 15,000 extra places.
There will now only be another 10,000 extra places - the number promised by the Conservative party.
It will mean an extra 8,000 full-time undergraduate places and 2,000 part time places this autumn.
But the funding will only be for one year, the second and third years will have to be funded by universities from other savings.
The cuts of £200m in university spending will be in addition to £449m already announced for next year.
The UCU lecturers' union said the decision would "dash the hopes" of many young people - and the Conservative-Liberal Democrat coalition "should stop pretending that 'we're all in this together'".
The Million+ group of new universities says the "real losers are the 10,000 extra students who would have had the opportunity to go to university".
The core spending on schools is to be protected for one year - but there will be £311m cuts to the funding given by the government to local authorities for education.
This covers services such as school transport - and will mean local authorities cutting education services or else finding savings from other budgets.
Becta, the government's agency for improving the use of educational technology in schools, is to be scrapped.
It has running costs of £65m per year - and savings this year are expected to be £10m.
There are a raft of other cuts from school projects - including £47m from one-to-one tuition, £60m from diplomas and other vocational qualifications, £1m from the School Food Trust and £40m from "Every Child" schemes, such as Every Child a Writer.
The Qualifications and Curriculum Development Agency faces efficiency savings - and its long-term future will be decided later this year.
The announcement includes a promise that core school funding, Sure Start and 16-19 funding would be protected for one year.
There will be £150m more to fund 50,000 new apprenticeship places and £50m extra for further education colleges.
"We are very pleased that today's Treasury announcement identifies college provision as one of the few areas where savings are being re-invested," said Martin Doel, chief executive of the Association of Colleges.
Head teachers' leader, John Dunford, welcomed the protection of frontline spending.
"School and college leaders will be reassured by today's pledge to protecting education funding. However the commitment is only for the next financial year," he said.
But Chris Keates, head of the NASUWT teachers' union, said: "Despite the Chancellor's claims, the cuts announced today will hit jobs not only in the public sector but also in the private sector. These cuts could also seriously undermine education provision in schools."
Related Internet Links
The BBC is not responsible for the content of external sites.