Transport firms hoping to turn ash into cash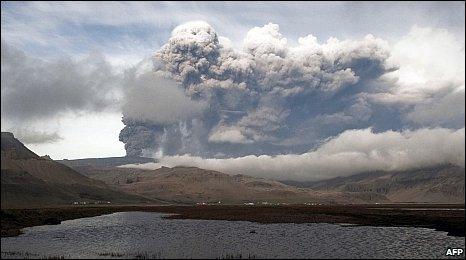 The cloud of ash from Iceland's Eyjafjallajokull volcano has played havoc with flights across Europe. It has hit airlines' balance sheets hard - but has brought a booking windfall for rail and ferry companies.
Those companies hope they can convert the sudden rush into prolonged growth, cashing in on disillusionment with flying, and a growing enthusiasm for greener travel.
Paul de Rosen, Lines Director for the biggest passenger ferry operator out of the port of Marseille, SNCM, puts a figure on what he says is the recent surge in the popularity of his company's means of transport.
"Normally, 10% of our customers are totally new to our database," he says.
"Which means they haven't gone on a ferry of ours for at least six years. Now, in the weeks since the end of the ash cloud crisis, that figure is 20%."
"During the April volcano-cloud spell, we had many people very happy to take our ferries," he adds.
They were happy - he says - partly out of gratitude at having been "saved" when the air routes were closed, and partly because they had discovered a relaxed way of travelling which pleasantly surprised them.
"We are seeing evidence, now", he says, "of totally new customers booking on ferries for summer holidays, because they want to secure their holidays from the threat of ash clouds or whatever, and because they want to travel with their car - which they believe is a way to maintain their autonomy on holiday, if something should go wrong."
This is an aspect to Mr de Rosen's thesis which might be especially unwelcome to airlines at the moment. He claims there is a residual scepticism among members of the European public that ash clouds are going to go away in a hurry.
With the volcanic eruption in Iceland continuing, many travellers unwilling to risk their annual summer break could turn to more traditional means of reaching their destination on the basis of "better safe than sorry".
All over the continent, ferry companies received a welcome boost from the passengers forced off planes last month, and they are hoping to hang on to at least some of the new business.
P&O, on its English Channel and North Sea routes, cites the enthusiasm of new passengers about the level of customer service and comfort it says compares very favourably to budget airlines.
And Stena Line points to high levels of current investment in its port facilities and new vessels on Irish Sea and Baltic services.
The evidence of a real change in Europe's travelling habits is still too new and too anecdotal to be compelling. But train operators, too, say their routes are coming into their own.
On relatively short trips, such as between Frankfurt and Cologne, or Madrid and Barcelona, trains have already all but eclipsed planes in popularity. And on one of France's main high-speed rail routes, from Lille in the far north to Marseille on the Mediterranean coast, there did seem to be a consensus among passengers that rail represented a more reliable, relaxing option than air.
One man travelling home to Clermont-Ferrand summed up some of the perceived advantages: "It's easier to get to the station than the airport. It's easier to work on board. It's more relaxing, usually with fewer delays. It's as fast. And environmental factors are pretty important to me too; trains have a much smaller carbon footprint."
Michel Leboeuf, head of Long Distance Projects at SNCF, the French national train operating company, sounds an optimistic note similar to his ferry company colleagues'.
He claims passenger numbers are defying the recession and increasing, albeit slowly. Skating over the fact that SNCF was hardly poised to take full advantage of the ash cloud crisis in April because it had a major strike, he says the high-speed TGV train is a highly effective competitor with planes - something that has largely kept low-cost airlines out of the French market.
"Our prices are low enough that there are very few low cost air companies. France is a very big country in terms of surface area and it should be a very good place for low cost carriers, but in fact we do not have them. TGV is the low-cost air company of France."
The European Commission admits it was caught out by the ash cloud, as much as many travel operators were. Helen Kearns, spokeswoman for transport at the Commission in Brussels, hesitates to favour one form of travel over another, even on the basis of how much damage it does to the environment.
But she does say there are lessons to be learned. "I think the crisis, and all that we've heard from passengers in the last weeks as we've struggled to manage the impact of the volcano has really focused minds on how we should give people more choice in how they travel," she says.
"We saw that when one transport mode went down, passengers found it hard to shift to rail and boats and to get hold of tickets and scheduling information. Anything we can do as regulators to open up options and, for instance, make it easier to take a train instead of a plane we will be trying to do as an urgent priority."
Related Internet Links
The BBC is not responsible for the content of external sites.