Northern Rock 100% savings protection guarantee ends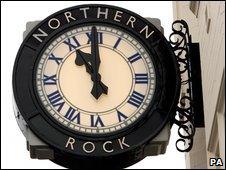 Savers with money in the Northern Rock will lose the 100% safety net on their funds from 1700 BST.
The official guarantee has been in place since the autumn of 2007, when it was introduced to put a halt on any run on the bank.
The intention was always for the guarantee to be a temporary measure.
Now the safety net will revert to the saver's first £50,000 - as is the case with other banks not backed by the government.
Money currently held in the Rock's fixed-term accounts which mature in the future will still benefit from the 100% guarantee, but only if this money was invested before 24 February.
The announcement of the end of the guarantee was made three months ago.
Under the Financial Services Compensation Scheme, the first £50,000 of any saver's cash is protected, per institution, if a bank or building society goes bust.
Northern Rock has said that some savers have accounts that hold more than £50,000, but that "customer reaction has been as expected" in terms of whether people have withdrawn funds to save elsewhere.
"A lot of people did move to Northern Rock, even their uncompetitive products, because of the protection," said Michelle Slade, of financial information service Moneyfacts.
"It could now be that people who moved to it for that reason look to get better rates elsewhere."
Anna Sofat, founder of Addidi Wealth Management, said: "In the past, people saw Northern Rock's 100% guarantee underwritten by the government.
"Many of them moved their money over and above the £50,000 to Northern Rock, purely because it is protected."
A Northern Rock spokesman said: "The removal of the guarantee is another positive step for Northern Rock and reflects our strong capital and funding position. We are returning to a level playing field."
In reality, the policy of the previous government was to ensure that, regardless of the formal limits of the FSCS, all money held by UK savers was guaranteed in full.
The collapse of the Northern Rock in the autumn of 2007 signalled the onset of the banking crisis.
It forced the government to take emergency action to ensure continued public confidence in that bank, and the others such as the Bradford and Bingley which subsequently faced collapse as well.
Northern Rock savers' money is now held in accounts run by Northern Rock PLC, formed on 1 January when the old bank was formally reorganised and split in two.
The other half of the old bank - Northern Rock Asset management - holds most of the bank's old mortgages.
Related Internet Links
The BBC is not responsible for the content of external sites.