Chad film wins Jury Prize at the Cannes Film Festival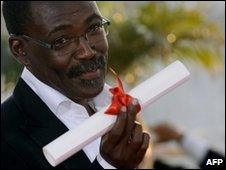 A film from Chad - A Screaming Man - has received the third-place Jury Prize at the Cannes Film Festival.
It was the first film from sub-Saharan Africa in 13 years to be chosen for the festival's main honours.
The movie's Chadian director Mahamat-Saleh Haroun said the award represented a chance to bring Africa back into the international cinema scene.
His film was shot against the backdrop of Chad's civil war and explores themes such as poverty and corruption.
"The films I make are simply to bring Africa back within the fold of humanity," Mr Haroun said in Cannes, reports the AFP news agency.
"I come from a country where little exists. In this desert-like context I learnt one thing: you have to make films the way you'd prepare dishes for the people you love," he said.
"You have to be a dreamer to continue to make films in countries where cinemas are closing down and where there is no local finance for film."
A Screaming Man tells the story of an ex-swimming champion who is forced to hand over his job as a hotel pool attendant to his son.
The festival's top award, the Palme d'Or, went to a mystical film from Thailand - Uncle Boonmee Who Can Recall His Past Lives.
It beat British director Mike Leigh's Another Year, which was seen as the favourite by many observers.
Last week, the opening at Cannes of a film about the Algerian civil war by French-Algerian director Rachid Bouchareb prompted hundreds of people to demonstrate, claiming the film is biased against France.
Related Internet Links
The BBC is not responsible for the content of external sites.