Thai director 'shocked' over Palme d'Or win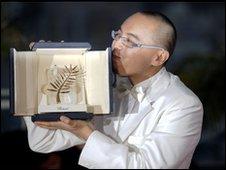 Director Apichatpong Weerasethakul seems as surprised as anyone else that he pulled off such a coup at the world's biggest film festival.
"I was shocked but so happy," he says, still holding cinema's most coveted prize - the Palme d'Or.
"It is such a reward because this was a small film, filmed on a tiny budget and filmed in the jungle with many hardships around us."
Uncle Boonmee Who Can Recall His Past Lives was filmed in the north east corner of Weerasethakul's native Thailand, with a lead actor whose day job is a roof welder. It tells of Boonmee, a man dying of kidney failure, who is visited by his late wife and missing son, who has become an ape.
"I got the idea for the movie when I was given a book by a monk," Weerasethakul explains.
"It was on reincarnation and had many creatures in it, some of which I used in the film. It's the first film I've made which isn't autobiographical.
"Having said that, I watched my own father suffer with a terminal illness and I put some of that experience in. I also asked my cast and crew about their own stories and sometimes changed the script during filming. It was a very collaborative effort in that sense."
Watching the movie and its theme of reincarnation is a dream-like experience - which led to some reviewers calling it boring.
But Tim Burton and Benicio Del Toro, on the jury at the Cannes Film Festival, said the film brought a new, Eastern perspective to their understanding of death.
"Fear of dying is as common in the East as in the West," adds Weerasethakul.
"We see Boonmee afraid of it in the movie. I wanted to explore what happens just before and after death."
For 39-year-old Weerasethakul, who has been to Cannes numerous times, this catapults him into cinema's elite - even more so as he beat auteurs like Mike Leigh, Alejandro Inarittu and Xavier Beauvois to the Palme.
For Thailand as a nation - especially in its present circumstances - it might mean almost as much. One film critic described it as "the equivalent of Thailand winning the World Cup".
"I hope the government of Thailand will take notice of this," says Weerasethakul.
"This is not a political film, but yet we suffer from censorship and restriction from them when it comes to making movies.
"I hope they see what we can achieve. I think Thailand needs some kind of hope in other ways because we are very depressed about the confrontation of different ideologies right now."
Uncle Boonmee Who Can Recall His Past Lives may be one of the oddest choices for Cannes's top award in recent times - however, getting the prize and all its attendant publicity should ensure that the movie gets a release in countries which would never have considered it before.
Related Internet Links
The BBC is not responsible for the content of external sites.