Sea dog hero Bamse statues to be made in miniature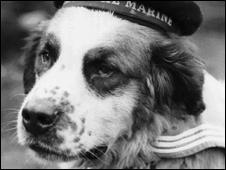 Miniature statues of a Norwegian sea dog that became a war hero are to be produced in response to global demand.
It is said that Bamse - a 14 stone (89kg) St Bernard - saved the lives of two sailors during World War II.
There are already statues of the dog at Montrose and Honningsvag in Norway.
Montrose Heritage Trust, which commissioned the 8in (20cm) model, said there had been "countless inquiries" from people wanting to buy a "mini Bamse".
The statue has been designed by the original sculptor Alan Herriot and will be manufactured in Scotland.
The life-size statue of Bamse in Montrose was unveiled by HRH Prince Andrew in October 2006.
A half-sized bronze version was exhibited at the Imperial War Museum in London from 2006 until 2007 and is now on display at the Marine Museum in Horten, Norway.
A book about Bamse was also written two years ago, aiming to separate fact from fiction surrounding the canine hero.
The dog performed many good deeds while he was the mascot on the Norwegian Navy minesweeper the Thorrod, which was stationed in Montrose and Dundee.
His exploits included going into the water to rescue a sailor who had fallen overboard and knocking over a knifeman who was trying to attack a young lieutenant.
Bamse died in 1944 and is buried in Montrose with his head facing towards Norway.
Dr Andrew Orr, from Montrose Heritage Trust, said: "There have been countless inquiries about the availability of a 'mini Bamse', and this has now become possible through the skills of the sculptor Alan Herriot and the help of the manufacturers, Ballantynes of Walkerburn.
"The trust is absolutely delighted with the finished product, a real work of art in its own right, a worthy tribute to the remarkable dog."
The trust said profits from the sales of the mini Bamse would help the Montrose Heritage Trust, Montrose Air station Heritage Centre and HM Frigate Unicorn in Dundee.
Related Internet Links
The BBC is not responsible for the content of external sites.