Ventriloquist Ray Alan dies at 79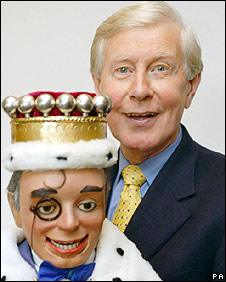 Ventriloquist Ray Alan has died suddenly at the age of 79, his agent has announced.
The showman was known for his upper class puppet Lord Charles, who usually appeared to be drunk.
Alan, from Reigate, Surrey, was a TV regular from the 1950s to the 1980s, appearing on shows including variety serial The Good Old Days.
In later years he was an entertainer on QE2 cruises, taking a break from showbusiness in 2008 due to ill health.
Old age had also made it increasingly difficult for him to control his puppet.
Alan - always accompanied by Lord Charles - was often a guest on TV shows including Celebrity Squares, Give Us A Clue and 3-2-1.
He clocked up the most appearances on The Good Old Days, where he and Lord Charles made their TV debut.
Alan began his career as a teenager, with his ventriloquism act developing from pretending there were voices coming from a box on stage.
Lord Charles' character was based on a man he saw at a cabaret show, with his face modelled on Stan Laurel.
In 1954 he worked with Laurel and Hardy after fellow ventriloquist Harry Worth was forced to pull out of a show.
His puppet became famous for his catchphrase "you silly arse" and having an eye for glamorous women.
His agent Peter Pritchard, who worked with him for 30 years, said: "Technically he was regarded as Britain's top ventriloquist. You couldn't see his mouth moving.
"He was tremendously well-liked in the business and he had been in the entertainment business all his life," he added.
Speaking to the BBC in 2006, Alan said of his puppet sidekick: "Oh, no, I'm not one of those ventriloquists who thinks he's real.
"When I finish my work I put it back in the tool box and I don't take it out again until the next job."