Water voles set to move into new Llangorse Lake home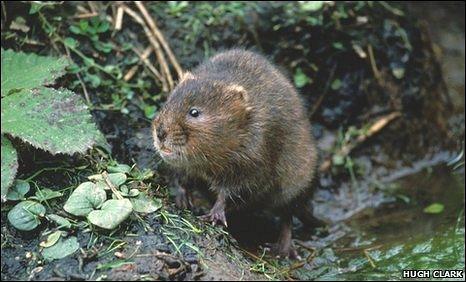 More than 100 water voles are to be released into a specially-designed habitat in Powys.
The young voles, reared at a breeding facility, will make their homes in Llangorse Lake, near Brecon, this summer.
They will be the first of a number to be released this year by the Environment Agency as it attempts to bolster dwindling numbers.
The agency has improved a network of drainage ditches around the lake.
Despite their protected status, the water voles's decline around Llangorse, as in other areas, has been dramatic.
In response to this, Environment Agency Wales is working to re-establish the species through its breeding and habitat enhancement programme.
Biodiversity officer Stuart Craxford said: "We intend this project to be the first of many re-introductions to suitable sites across south Wales.
"To compliment the releases, we're improving the network of drainage ditches around Llangorse, creating new ponds and undertaking tree management work. This will encourage the plant growth that provides the essential cover and food that water voles need."
Other species such as bats, otters, aquatic invertebrates, birds and even great crested newts, thought to be present in the area of the lake, will also benefit from the agency's habitat work.
Selwyn Eagle, project officer, added: "We're doing this work with substantial help from local landowners and the Brecknock Wildlife Trust.
"We're training trust volunteers to help carry out local water vole surveys.
"By monitoring the water vole numbers, we'll be able to check how the water voles are doing in their new surroundings and ensure we're maximising the success of our breeding and habitat improvement work."
A number of other projects are taking place in Wales, in areas such as Carmarthenshire and Ceredigion, to improve life for the water vole.
Related Internet Links
The BBC is not responsible for the content of external sites.