Man hit with metal bar in attack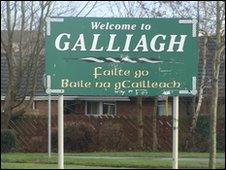 A workman was struck on the head with an iron bar in an attack in Galliagh in the early hours of Monday.
The man, who works for Omega Maintenance, was securing a flat which had been been burgled at Altcar Park when he was assaulted by three men.
The attack happened at about 0100 BST. Police said he is being treated in hospital for bruising and swelling to the head.
The attackers then stole the man's white Ford Transit van.
The injured man's employers said the attack could have had "serious repercussions".
"He was dazed when I got to him at about 0100 BST," said Vincent McMonagle, from Omega Maintenance.
"He had tried to make his way to the main road, but his face was streaming with blood."
Police have appealed for information.