London and Glasgow Games teams in co-operation deal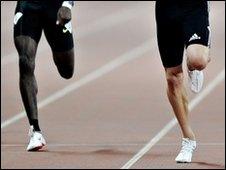 The London Olympics and Glasgow Commonwealth Games have agreed a formal co-operation deal.
A memorandum of understanding has been signed by Lord Coe from London 2012 and John Scott from Glasgow 2014.
This is the first time both the Olympics and the Commonwealth Games have taken place in the UK within two years of each other.
The agreement allows the two events to gain from each other's expertise and share volunteers and equipment.
Under the terms of the deal, the London 2012 team will have equipment which it will need to dispose of cost effectively after the Olympics. Some of this may be bought by Glasgow 2014.
Glasgow 2014 staff may get the chance to work at the Olympics - potentially helping both.
The events will also rely on volunteers to help them run smoothly and safely. This is also an area where there is scope for co-operation.
John Scott, chief executive of the Glasgow 2014 Organising Committee, said: "To have the Commonwealth and Olympic and Paralympic Games within two years of each other in the same country is unprecedented, and the understanding we have formally signed today has underlined what a unique opportunity both Great Britain and Scotland have.
"There are so many ways in which Glasgow and Scotland will benefit from London 2012, and the potential sharing of assets such as volunteers and equipment means that we can also provide athletes coming to us in 2014 with the same athlete centred experience that 2012 also aims to deliver."
Sebastian Coe, the chairman of the committee organising the London Olympics, said: "Today's agreement paves the way for both London 2012 and Glasgow 2014 to enjoy the greatest possible success, and furthers a broader legacy aim for the UK to be the place to turn to find the very best people to deliver global events."
Related Internet Links
The BBC is not responsible for the content of external sites.