Stevens' team to receive libel damages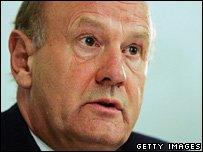 A former Metropolitan Police Commissioner who uncovered security force collusion with loyalist killers is to receive libel damages over false newspaper allegations linked to suspected Special Branch agent Mark Haddock.
Lord Stevens and 19 other members of his inquiry team will be paid undisclosed sums as part of a settlement.
The publishers of the Sunday World and Sunday Life newspapers have issued an apology in the High Court.
Former PSNI chief constable, Sir Hugh Orde, is among those who will receive damages and legal costs.