One-to-one tuition under threat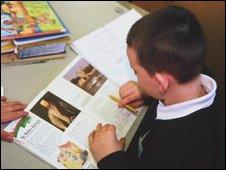 The future of one-to-one tuition programmes for pupils falling behind in English and maths is in doubt after the government announced a series of cuts.
The Department for Education plans to save £110m from the administration of the schemes in England, including £47m from Labour's flagship one-to-one reading scheme.
A department spokesman said the schemes would continue until the end of 2011.
But they will be reviewed ahead of the comprehensive spending review.
The previous government's Every Child a Reader, Every Child a Writer and Every Child a Counter programmes, only have funding guaranteed until the end of the 2010-11 academic year.
These schemes are being targeted for a share of £10m cuts in 2010-11 which the government says it can shave off bureaucracy costs.
A further £47m will be saved by axing the central monitoring and evaluation of the one-to-one tuition scheme.
These intensive tuition schemes have been found to be very effective by researchers, and were credited with helping many pupils from deprived backgrounds keep up with their more advantaged classmates
Before the general election, Labour had pledged to give every pupil who was falling behind the right to extra help under such schemes.
A Department for Education spokesman said: "All programmes will be under review in the light of the priorities set out in the coalition document, and in the light of the spending priorities and decisions to be taken in the future."
He added: "As part of the Coalition Agreement, the government intends to introduce a pupil premium that will work to help disadvantaged pupils'.
"We will set out next steps on one to one tuition in due course as part of our wider reform programme - but we are clear that the Pupil Premium will target significant extra resources at the children who most need help."
The future of the new Diploma qualification is also in doubt, with £60m cuts to red tape and marketing surrounding the qualifications confirmed by the government.
The qualification which combines academic and practical learning was one of Labour's key educational reforms.
But many have criticised the qualifications for being too complex and difficult for colleges to offer.
The department spokesman added: "Part of the savings are looking more widely at what they want to do with the Diploma scheme.
"The government is in favour of vocational education but they want to see if they can improve it."
Related Internet Links
The BBC is not responsible for the content of external sites.