Cafe owner considers legal action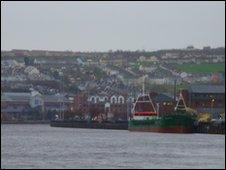 A businessman from Londonderry has said he is considering taking legal action after bailiffs mistakenly tried to close his cafe.
The Insolvency Service attempted to shut his premises on the Strand Road on Thursday, claiming it was bankrupt.
Paul Carlin, who own Me Ma's cafe, said it was a case of mistaken identity.
"We don't owe a penny. I have not heard so much as a 'we're sorry'. No one has come to apologise to me in any shape or fashion," he said.
Mr Carlin said the officials who came into his premises were "very aggressive".
"They just said: 'Why are you open, you should be closed, you're bankrupt'," he said.
"They got the wrong guy and they wouldn't back down."
Mr Carlin said the officials stayed at the cafe for two hours before leaving.
"The girls were there that long I even offered them a cup of tea."
A statement from the Insolvency Service on Monday said they had been reliably informed that another individual was believed to be carrying on business as a cafe proprietor under the name of Me Ma's from Quayside Shopping Centre.
"On 19 May 2010 an agent for the Official Receiver was instructed to call at the cafe in the Quayside Shopping Centre to ascertain whether the bankrupt was trading from the premises," the statement read.
"It would be inappropriate for the Insolvency Service to comment further, at this stage."