Disgust over Trident fishing boat sinking report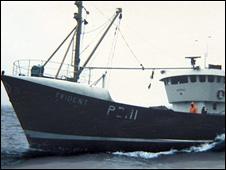 Bereaved relatives have expressed "disgust" that they did not know about a report into the sinking of a trawler.
The Trident went down off Wick in 1974 with the loss of seven men.
An inquiry is probing the sinking, but the widows have now learned of a 1976 report which found the Peterhead vessel had insufficient stability.
The Advocate General's office said the report was public and no attempt was made to withhold it.
An inquiry held a year after the sinking found the Trident had been struck by a massive wave, but many of the relatives insist the vessel was unstable.
A new investigation was ordered when the wreck was discovered by amateur divers in 2001.
The fresh inquiry began in Aberdeen last October, but was adjourned earlier this year. It resumed on Tuesday.
All the crew on board - Robert Cordiner, Alexander Ritchie, George Nicol, James Tait, Thomas Thain, Alexander Mair and Alexander Summers - were lost when the Trident sank.
Related Internet Links
The BBC is not responsible for the content of external sites.