Russia's mine accident relatives 'targeted by gangs'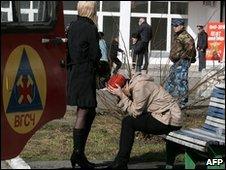 The families of 67 miners killed in a recent accident in Russia are to get 24-hour police protection after reportedly being targeted by criminals.
The gangs are allegedly trying to force the families in central Siberia to hand over thousands of dollars they have received as compensation money.
Twenty-three miners are still missing after the blasts at the Raspadskaya mine on 9 May.
It was one of the worst accidents in recent years.
It has already led to angry protests on the streets in the local town - with the main railway line blocked for several hours until riot police intervened.
Now - according to the authorities - the widows of the miners killed in the accident are being visited by criminal gangs demanding a large part of the compensation money.
One woman is quoted as saying the gangsters threatened to burn down her house and attack her children if she did not hand over the cash.
In response, the local governor has ordered that each of the families receive police protection. He has also called for the criminals to be tracked down and punished.
But an opposition politician has warned that the local authorities may be using this issue as an excuse to keep watch over the miners' families to prevent any further demonstrations.
Both the local and national authorities have reasons to be fearful of a large protest movement developing amongst the workforce in the mines.
In the late 1990s, miners marched to Moscow - directly confronting the government with their grievances.