Ban on chicken costume voters in Nevada polling spots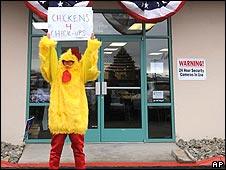 Voters wearing chicken costumes will be barred from polling stations in Nevada, election officers have decided.
Democrats have mocked Republican Senate hopeful Sue Lowden, accusing her of suggesting that people barter for medical care using chickens.
Activists in chicken costumes started appearing at Ms Lowden's rallies.
Ms Lowden is one of 12 Republicans competing in a primary battle on 8 June to take on Democratic Senate Majority Leader Harry Reid.
In response to Ms Lowden's comment that her grandparents "would bring a chicken to the doctor", Democrats set up a website entitled Chickens for Checkups.
Chicken outfits are included in measures against the wearing of political badges, caps, and shirts within 100ft of polling stations under Nevada statute 293.740, the authorities say.
"Wearing a chicken costume would constitute 'wearing any type of insignia which tends to promote the success or defeat of any particular candidate'," said Matt Griffin, Nevada deputy of elections.
The authorities sent out a letter to election clerks after officials in Washoe County started receiving chicken costume-related queries. But it is unlikely anyone in a costume will be arrested, says Mr Griffin.
"Voters will be spared the Harry Reid carnival and that's a good thing," Robert Uithoven, from Ms Lowden's campaign team, told the Associated Press news agency.
A spokesman for Mr Reid's campaign said he was not aware of any plans to send volunteers in chicken outfits to polling stations.
Related Internet Links
The BBC is not responsible for the content of external sites.