IBM to buy software firm Sterling Commerce for $1.4bn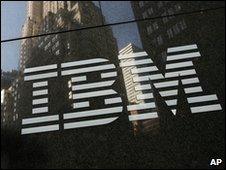 Computer giant IBM is buying business software company Sterling Commerce from phone group AT&T for $1.4bn (£973m).
US-based Sterling makes software that helps firms do business with each other, and supplies more than 18,000 companies around the world.
AT&T, which paid $3.9bn for Sterling in 2000, said its subsidiary was "no longer core to the company's long-term strategic objectives".
Sterling's customers include food group Heinz and mobile phone maker Motorola.
It sells software that deals with marketing, selling and order management and allows users to access information using cloud computing.
This can make information more easily accessible to a wider group as information is shared over the internet rather than kept on a company's own servers.
IBM said Sterling "strongly complements" its exciting portfolio of businesses.
"Businesses today are operating in a highly competitive global environment in which lines between actions taking place within and outside an organization's four walls are blurring," said IBM's Craig Hayman.
The all-cash deal is still subject to regulatory approval.
Related Internet Links
The BBC is not responsible for the content of external sites.