Policeman cleared in 'shots' case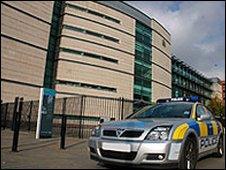 A policeman has been cleared of criminal charges brought after he opened fire on a suspect during a murder investigation.
A jury at Belfast Crown Court reached a unanimous verdict in the case of Sergeant Stephen Mathieson.
The Police Ombudsman had brought four charges against him of attempting to wound a man with intent to cause GBH.
Sergeant Mathieson said he fired the shots because he believed the suspect was pointing a handgun at him.
During the two-week hearing, the jury heard how police were tailing a green Rover car in north Belfast on 17 March 2007 as part of an investigation into a double, dissident republican murder when the incident happened.
The officer, whose address was given as c/o Grosvenor Road PSNI station, told the jury he shouted several warnings for the suspect to stop and said he only shot at him because he was in "fear for his own life".
Sergeant Mathieson, who had 27 years service, was due to retire three weeks after the incident.