Israel minister Lieberman 'abused trust,' say police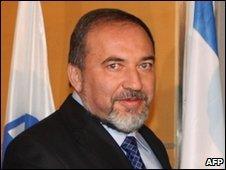 Israeli police have recommended that Foreign Minister Avigdor Lieberman face fresh charges in a corruption scandal.
Mr Lieberman and another official are accused of trying to manipulate a police investigation into alleged money laundering.
Police have previously recommended that the foreign minister, a right-wing member of the governing coalition, should be indicted on other charges.
They have added "breaching the public trust" to the list of charges.
Israel's attorney general must now decide whether to take up the charges. This is a process that can take months.
The police say that the country's former ambassador to Belarus, Zeev Ben Aryeh, is alleged to have given Mr Lieberman -a political ally - a document detailing a the police investigation.
Mr Lieberman had reportedly plucked Mr Ben Aryeh from obscurity at the foreign ministry and made him an ambassador, the Haaretz newspaper reported.
The minister worked as a nightclub bouncer in his youth in the USSR, and is known for his abrasive style.
He famously once said that Egyptian President Hosni Mubarak could "go to hell".
Last August police recommended indicting Mr Lieberman on charges of bribery, money laundering and obstruction of justice.
Related Internet Links
The BBC is not responsible for the content of external sites.